The Prairie Willow Cottage hot tub has been installed and is ready for you.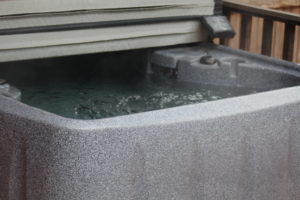 A vintage fence with a charming gate surrounds the area where the hot tub sits. A secret garden will be planted during the spring to add a dramatic backdrop to the area.
The Prairie Cottage is fast becoming one of our more popular cottages. Decorated with a mix of refined and prairie styling, the cottage is a nod to my great grandmother, Josephine. Josie immigrated from Vienna, Austria and ended up in a dugout on the Oklahoma prairie. She brought with her beautiful touches from her homeland to grace the simple structure. She attempted to enhance the walls of the red mud hut, by painting them with bluing.  Later, oil was discovered on her land.
Come spend a night in the Prairie Willow, soak in the hot tub and enjoy the decor.